ESP hardened expandable baton – 16″, 18″, 21″, 23″ and 26″
Our hardened expandable batons (ExB) are intended for professional use in extreme conditions. They serve for fast self-defence in different conflict situations.
The difference to the non-hardened version is the expandable tubes, which are made from a more superior material, which is hardened by heat treatment. Thanks to it, the batons are highly resistant to a flexion if the baton is exposed to a hard stroke. Surface finish is black nickel-zinc (with good resistance to abrasion), or chrome (silver surface).
They meet the requirements of the German standard for expandable batons. This product is suitable for the police, security agencies, and guards, against an assailant armed with a knife, for walking in the country alone or with a dog.
The expandable baton is opened by sharp flick and stays firmly fixed in this position. We have produced hardened batons in 5 lengths with 4 types of rubber handles.
What is the telescopic baton – more information >
---
---

Demonstration of difference between hardened and non-hardened baton (after one blow)
---
---
Types of handles
Specially designed rubber handle enables a secure hold. The rubber material is certified for long-term contact with the skin without health risks. Two types of handles are available:
Anti-slip handle with a rough surface "H"
Its design significantly decreases any possibility of the baton being yanked from the hand and gives the user a comfortable certitude.

---
Ergonomic handle "HE"
This handle has an ergonomic shape with pleasant smooth surface.

---
Smooth leather-imitation grip "HL"

---
One tried to pull the baton out of hand...
Common baton


---
ESP baton


---
---
Review of producing types
Designation of the baton

Surface finish

Length of the baton

Weight 
(without holder)

anti-slip handle

ergonomic handle

closed

expanded *

ExB-16H
ExB-16HE

black / chrome

6,7″  /  170 mm

16″

  /  405 mm

340 g

ExB-18H
ExB-18HE

black

 / chrome

7,1″

  /  180 mm




18″  /  455 mm

370 g

ExB-21H
ExB-21HT
ExB-21HE
ExB-21HL

black

 / chrome

8,3″

  /  210 mm

21″  /  530 mm

440 g

ExB-23H
ExB-23HE

black

 / chrome

9″

  /  230 mm

23″

  /  585 mm

500 g

ExB-26H
ExB-26HE

black

 / chrome

10,2″

  /  260 mm

26″

  /  660 mm

540 g
* length tolerance: -0,6″ (-15,2 mm)  /  +0,4″ (10,1 mm)
---
---
Swiveling holder supplied with the expandable baton
All hardened batons are supplied with a professional swiveling plastic holder with Quick Change System, for which European patent was granted. It can be rotated in respect to the belt by full circle of 360 degrees with 16 locking positions. This holder is included in the price of the baton.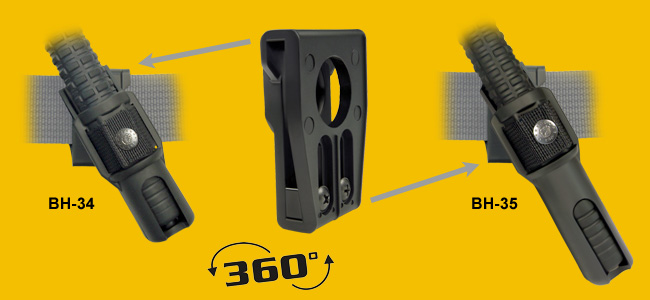 ---
This holder enables:
very quick drawing of the baton just with one hand, since there is almost no friction thanks to automatic opening of the holder after unfastening of nylon strap,
with unfastened nylon strap enables carrying of expanded baton.
The holder is equipped with UBC-05 belt clip (part of the Quick Change System) which enables the user to quickly change between different plastic and nylon ESP holders with rotation mechanism. The clip itself remains fastened to the belt – you only need to click on the holder of choice.
batons of the lengths 16, 18″ and 21″ .... BH-54
ExB-21HL baton .... BH-54-L
batons of the lengths 23″ and 26″ .... BH-55
---
---
Technical data for hardened expandable batons
A three-part steel friction lock baton with a special rubber grip, with a high-quality holder as part of the delivery.
Outside diameter of the grip: 27,5 mm (29,5 mm for ExB-23H, ExB-26H).
Material
Cold drawn seamless tubes pipes, class CSN 12 060 (Czech standard) = CK55 (DIN 17200) = C55E (EN 10083-1+A1).
Part of batons
Pipes 
diameter
Width of
the wall
Hardened for
Rockwell hardness
Holder
21 mm
1,75 mm
47 ± 2 HRC
Centre part of batons
16 mm
1,5 mm
49 ± 2 HRC
End part of batons
11 mm
2 mm
51 ± 2 HRC
Surface finish
Surface finish is black nickel-zinc (with good resistance to abrasion), or white chrome.
Technical Directive - Short and long batons - Situation: April 2006 >