MH-x4-M16     Plastic holder for magazine 5.56 of the rifle M16 / M4 / AR15 (NATO standard)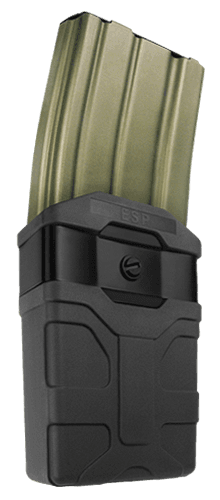 Self-locking universal holder is designated for carrying of absolute majority of metal or plastic (Magpul, Oberland Arms etc.) magazines 5.56 for the rifles M16 / M4 / AR15. 
The sophisticated design with the fixation spring enables a quick drawing of the magazine during the so-called combat re-loading. Colour: black or khaki.
Each user can himself set the desired thrust force of the magazine with use of 3 spacers supplied with the holder.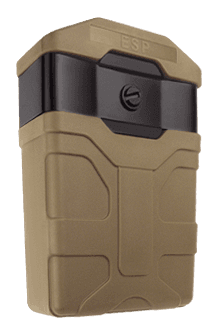 The holder can be used also of other magazines of assault rifles based on the NATO standard, such as:
British SA80
French Famas
Swiss Sig 556
Italian Beretta AR70/90
South Korean Daewoo K2
Austrian new AUG/A3
Israeli TAR21
German G36 with appropriate adapter
The holder will be appreciated not only by the rifleman specialise in rifle IPSC disciplines, but also by police officers and soldiers who use similar weapons at their service.
Comprehensive system of ESP fixing brackets – more information >
Designation of the holder

Type of the fixation clip

Rotation 




(360°)

Compatibility 




with MOLLE

Insertion without 




unbuckling the belt

MH-04-M16

UBC-01

•

X

•

MH-14-M16

UBC-02

•

•




•

MH-24-M16

paddle Fobus




•

X

•

MH-34-M16

UBC-03

•

X
X
MH-44-M16

UBC-04

•

•

–
MH-54-M16

UBC-05

•

X
X